NUES is one of four Regional Education Service Agencies aiding the rural schools of Utah. Our sister agencies have similar but varying responsibilities for their respective regions, based upon the needs of their individual schools.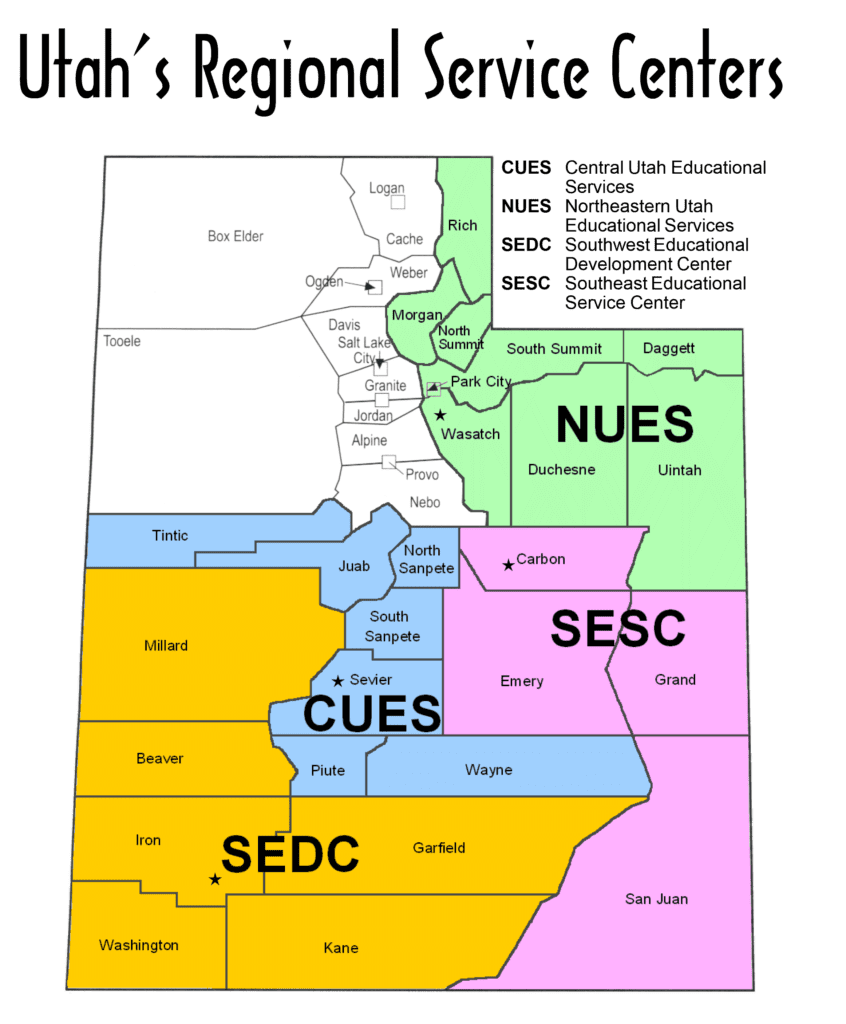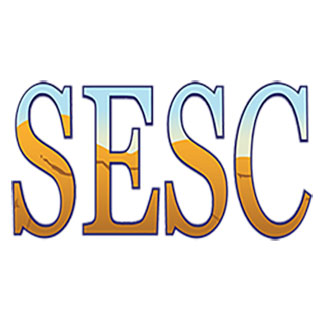 Southeast Education Service Center serves the schools in the Southeast region, including: Carbon, Emery, San Juan, Grand School Districts and Pinnacle Charter School.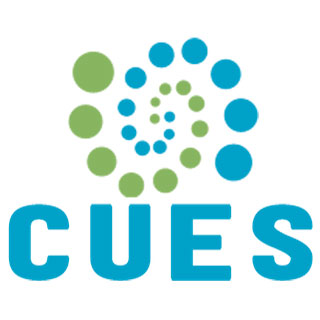 Central Utah Educational Services serves the schools in the Central region, including: Juab, Piute, North Sanpete, South Sanpete, Sevier, Tintic, and Wayne School Districts.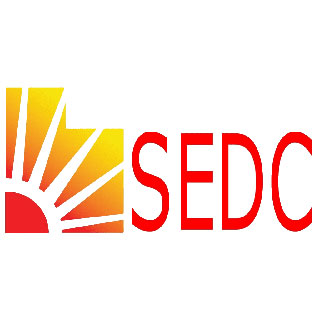 Southwest Educational Development Center serves the schools in the Southwestern region, including: Beaver, Garfield, Iron, Kane, Millard, Washington, School Districts and various Charter Schools.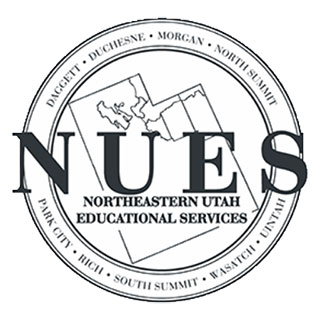 Northeastern Utah Educational Services serves the schools in the Northeast region, including: Daggett, Duchesne, Morgan, North Summit, Park City, Soldier Hollow Charter, South Summit, Terra Academy, Uintah, Uintah River, Wasatch, Weilenmann School of Discovery, and Winter Sports School.
Statutory Origin
Senate Bill 3 Substitute 1 1969. We were created in 1969 by a line item added to the minimum school program. The Senate created us after a successful pilot program funded by Federal grant money. In 2001 our line item was moved from the minimum school program to the USOE budget. Regional Service Centers were inadvertently removed from State Code at that time. In 2011 Rep. Last ran and passed House Bill HB 92 Substitute 1 "Public Education Regional Service Centers." That bill put us back into state code and required that we create an interlocal agreement between the districts we represent and submit an annual report to USOE. Recently, the Utah State Legislature designated a change from Regional Service Centers to Regional Service Agencies to better align with similar agencies in other states.
Structure
The 26 rural school districts are organized into four service regions. See the map above. Each regional service center is governed by a Board of Directors consisting of the District Superintendents and Charter Schools in their region. Each center has an Executive Director, an Administrative Assistant, a Network Engineer and Technology Trainer. Other positions have been added in each region depending on the needs of the school districts within each region.
Purpose
Utah's four Regional Service Centers were established to assist school districts in providing equitable and cost-effective services and programs for students in rural Utah to match those offered to students on Utah's urban Wasatch-front. Basically, Regional Service Centers were created to save districts money by pooling purchases and services to build economies of scale for small school districts.
Geographic Scope
See the map above. The total square mileage that these Regional Service Centers cover (65,478 mi2) is nearly the same size as Wisconsin, the 23rd largest state in the USA. At one time Tooele, Logan, Box Elder and Cache were part of the NUES region. Grantsville, Wendover, and Dugway still participate in the NUES Sterling Scholar region competition.
Legislative
The four Service Centers are also part of an organization called Utah Rural Schools Association (URSA) which organizes the Thursday afternoon meetings on the hill during the session. Each service center plans an annual dinner and business meeting with legislators to discuss items related to education.
Educational Services Provided by Regional Service Centers to Rural School Districts in Utah
Technical Support (2 UEN Funded Positions) – Coordinator, Trainer, Network Engineer
Support, Updates and Maintenance of District Servers (onsite at the Regional Service Centers including emergency generators)
Leveraging of E-Rate dollars through Application Compliance Support
Reading Specialist
Grant Writing, Grant Administration, Grant Support
Math Specialist
Data Assessment Mentor/Summative & Formative Data Analysis
Autism Specialist
Warehousing/District Purchasing
Grant Application Support
Special Education
Computer Repair
Media Delivery, Duplication
Printing Services
Curriculum Mapping
Alternative Endorsement Programs/Teacher Recruitment
Distance Education Hubs/Online Meetings/Classes
Professional Staff Development Training
Coordinate State Rual Schools Conference
Coordinate Administrative Training Conferences, State Autism Conference, and numerous others
Coordination of Sterling Scholar Program
Driver's License Programs
Link between small districts and State Educational Agencies
Legislative Liason for School District
PK-3 Early Learning Coaching
Student Behavior Support
Mental Health Crisis Services
Strengths of Maintaining Current Organizational Structure
Ability to provide critical educational and technical support to 26 rural districts covering a huge geographical area. (Rural School Districts don't have instant access to USBE or UEN services as does the Wasatch Front)
Local Control focused on needs assessments of rural districts
Ability to provide equitable educational opportunities to students and educators in rural school districts
Cost Effective Programs/Services that small districts can't afford
Governed and evaluated by Rural Executive Board Members who know and understand their needs. (Some Executive Boards include members of State Board and Higher Ed.)
Geographical distances and accessibility
Offices/Building ownership. Located in rural central locations. Financial savings since buildings are paid for and free of debt.
Fixed assets owned by school districts – cars, computers, servers, etc.
Annual audits testing general compliance requirements identified in audits of local governments in Utah
Accounting – Strength of double check and balance system through district fiscal agent and independent auditor
Involvement of State School Board Members on Regional Service Center Boards
Ability to operate around the red tape of a larger bureaucracy more efficiently. Time sensitive.
Housing and maintenance of rural district technical networks is critical in rural Utah locations.
The service centers collaborate to provide programs such as the Utah Rural Schools Conference and various grants and technology purchases.